Shop
In 2012 Jodi and Tami filmed 3 live Ayurvedic Yoga classes in Goa India. These classes are specifically designed to harmonize our individual constitution and unify the body, mind and spirit.
View a trailer of our Ayurveda and Yoga DVD's:
Ayurveda – "Yoga's sister science," teaches the philosophy of the 5 great elements as the foundation of three Ayurvedic principles called "Doshas." We are all composed of Air, Space, Fire, Earth and Water. We are an intimate reflection of all that we see in nature. At different times in our lives, during the day or time of year we may feel an excess or deficiency in one or more of these elements. Yoga practice can bring our unique constitution into a state of balance. We can enhance our energy if we need or slow ourselves down. May you be inspired by these practices.
Yoga DVD's
Restorative Yoga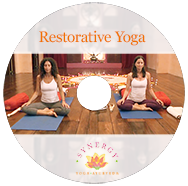 This nourishing, and deeply relaxing, one-hour practice guides you through a series of restorative and yin postures. Gentle guidance is offered throughout the practice, and it is set to soft background music. Relax, rest and enjoy!
Yoga for Vata Dosha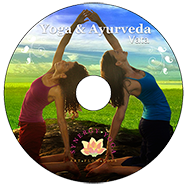 Vata – Air/ space: This practice is warming, grounding and nourishing. Tami guides you through a slow, fluid flow, including a gentle pranayama & postures that are strength building & that move the spine in all directions.
Yoga for Kapha Dosha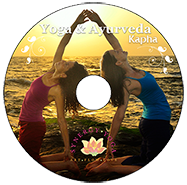 Kapha – Earth/Water : This practice is detoxifying, invigorating and warming. Jodi & Tami guide you through an active Vinyasa Class. This strength building practice also creates inner heat and is truly energizing. We open the chest releasing stagnation from the system. A warming Pranayama is included and the practice ends with a seated meditation.
Yoga for Pitta Dosha
Pitta – Fire/ Water: This practice is cooling, calming & centering. Jodi guides you through a meditative flow, including a cooling pranayama & postures that relax the nervous system and draw our awareness within.
3-Disk Compilation
Instant MP4 digital download of all three DVDs
Yoga for Vata Dosha
Yoga for Kapha Dosha
Yoga for Pitta Dosha
Synergy Yoga DVD
his DVD, perfect for when you are travelling or do not have time to go to the studio. This DVD includes two 1- hour vinyasa yoga practices, perfect for all levels of practitioners.
You may choose an instant MP4 digital download of the Synergy Yoga DVD or we can send you a hard copy of the DVD by mail.